Wowie we are already in November, only one more month of the year after this! Below is all of the anime, anime movies, ova's and shorts that are coming out during the month of November. Some of the OVA's I have been waiting ages for them to come out and a few of the movies I am really excited to see. Okay so there are not that many releases this month, unlike October which was overloaded with releases however let's have a look, shall we?
ANIME
Pokémon Sun & Moon
Genre:  Adventure, Comedy, Fantasy, Kids, Shounen
Release Date: 17 November 2016

Rating:

PG – Children
Satoshi and his Pikachu head off to a new region, Alola, wearing a new set of clothes. He receives a Z-Ring and becomes a student at a school.
Movies
Kagerou Daze: In a Day's
Genre: Drama, Sci-Fi, Supernatural
Release Date: 3 November 2016
Shintarou Kisaragi who is a NEET shut himself inside his room for 2 years. Otherwise he has been living his life normally until he met a cyber girl named Ene. She appeared in his computer screen when someone anonymously sent him a mysterious e-mail. One day, Ene had been messing with Shintarou's PC, which forces him to leave his home to go to the outside world for first time in two years.
Kono Sekai no Katasumi ni
Genre: Drama, Historical, Seinen
Release Date: 11 November 2016
Newlywed Suzu Urano moves to her new life in Kure City on the coast of Hiroshima Prefecture, where she perseveres through World War II with pluck and determination.
Orange: Mirai
Genre: Drama, Romance, School, Sci-Fi
Release Date: 17 November 2016
The film will be narrated from the viewpoint of Suwa, as he continues to support Kakeru and Naho's relationship. It will also feature an original story written by the series' original creator Ichigo Takano, which takes place after the events in the anime. The tagline in the key visual reads, "Since that day, I've always wanted to show those two this future—."
Ansatsu Kyoushitsu Movie: 365-nichi no Jikan
Genre: Action, Comedy, School, Shounen
Release Date: 18 November 2016

Rating:

PG-13 – Teens 13 or older
This is a compilation movie that will be played alongside "Koro-sensei Q!" It will include an original story that takes place the day before the class reunion that is shown at the end of the manga, seven years after the manga's climax.
Koro-sensei Q!
Genre: Action, Comedy, School, Shounen
Release Date: 18 November 2016

Rating:

PG-13 – Teens 13 or older
This is a 10 minute movie. It is a spin off of Assassination Classroom.
Cyborg 009: Call of Justice 1
Genre: Action, Sci-Fi
Release Date: 24 November 2016
There is a group of people who possess superhuman powers and intellect, and have manipulated human history since ancient times. Their goals are unknown, and they cast a dark shadow over the world. Though few people believe in the Bresudo's existence, one journalist named Lucy Davenport heads to Texas to contact a certain family, and she meets the cyborgs. The cyborgs themselves have been freed from their duty of protecting humanity ever since the establishment of the UN Guardian troops, and they now live quiet and peaceful lives. However, Lucy's visit and the return of the Bresudo draw Joe and the others into a new battle.
KanColle Movie
Genre:  Action, Military, School, Sci-Fi, Slice of Life
Release Date: 25 November 2016

Rating:

PG-13 – Teens 13 or older
OVA's and Shorts
Monster Musume no Iru Nichijou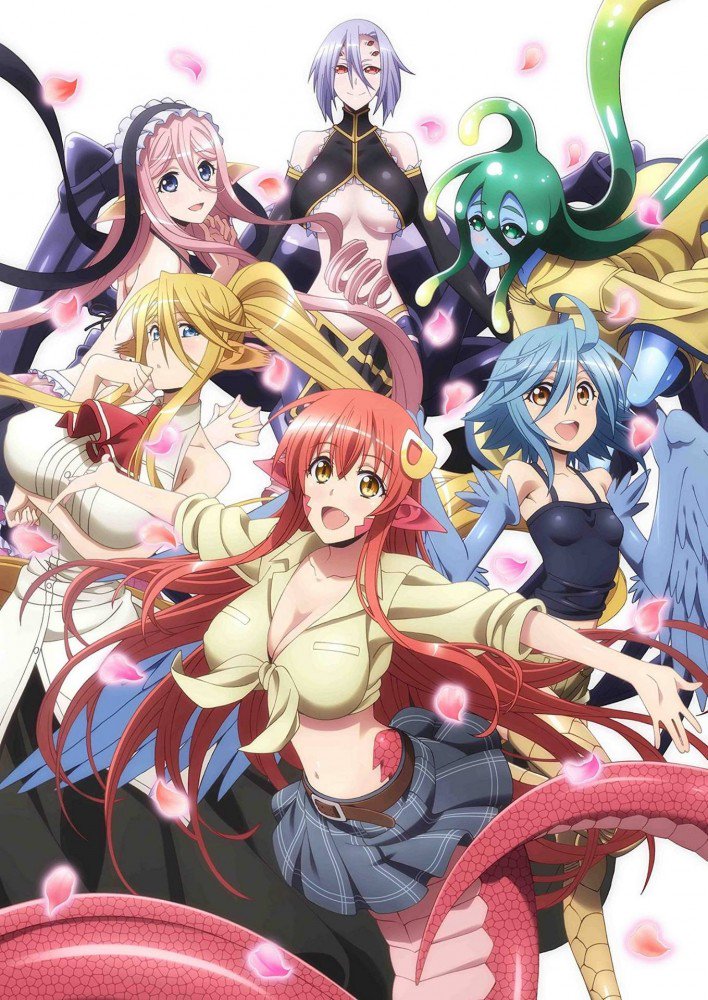 Genre: Comedy, Ecchi, Fantasy, Romance, Seinen
Release Date: 11 November 2016

Rating:

R+ – Mild Nudity
This OVA will be bundled with the 11th volume of the manga. It will be an adaption of chapter 17, wherein Mero, Miia, Cerea, and Kurusu go to a gym's pool.
Fairy Tail: Yousei-tachi no Christmas
Genre: Comedy, Fantasy, Magic, Shounen
Release Date: 16 November 2016
OVA following the companions when they gather at Lucy's home and hold a Christmas party.
"Eiyuu" Kaitai
Genre: Fantasy, Super Power
Release Date: 22 November 2016
Uro Yamada, and a 17-year old girl named Karon both work as part of the "Hero Retirement and Return to Everyday Life Assistance Agency," which takes heroes from another world back to Earth and helps them reintegrate into everyday life. Karon, a former hero herself, works under Uro as they tackle cases and she also lives with him, with Uro constantly failing to rein in Karon's hero-like behavior even as he tries to ingrain the behavior of common people into her.
Strike the Blood OVA
Genre: Action, Ecchi, Fantasy, School, Shounen, Super Power, Vampire
Release Date: 22 November 2016
Kubikiri Cycle: Aoiro Savant to Zaregototsukai
Genre: Action, Drama, Mystery, Supernatural
Release Date: 29 November 2016
It's the vacation of a lifetime, a trip to a remote island filled with geniuses and murder. On Wet Crow's Feather Island, a tiny speck in the Sea of Japan, lives Akagami Iria, the exiled daughter of a powerful family. Born into great wealth, she was a princess of the highest pedigree, until she was cut off by the leader of the Akagami Foundation. For the last five years, she has lived on Feather Island with her maids. But she hasn't been alone. She has invited the best minds that Japan has to offer to come and stay with her.
Where there is no actual description, it is due to the fact that I could not find out any information no matter how hard or where I looked. Otherwise all release dates were sourced from AniChart andLiveChart.
What out of the November releases are you excited to watch? Let me know in the comments below. I am looking forward to the Fairy Tail and Strike the Blood OVA's. I am also looking forward the the Assassination Classroom movies!