A new year and a new season of anime to look forward too! We are now officially in the winter 2020 releases and thankfully the start of the year sees a 'quieter' seasonal release. Especially compared to the numbers released in recent seasons. That still did not make narrowing this list to a confirmed 10 anime to watch any easier mind you.
Below are the 10 anime I will be watching from this season, although my list is not limited to these 10.
Koisuru Asteroid
What is it about: When she was little, Konohata Mira promises a boy she meets at a campsite that they can find a galaxy together. When she enters high school, she joins the astronomy club. But that year, the astronomy club happened to combine with the geology club, making it the astrogeo club?! Won't you find all kinds of sparkles with the astrogeo girls?
Genre: Comedy, School, Slice of Life
Why I want to watch it:  A light and feel good anime is the perfect call for the start of a new year. I am also looking forward to the animation. I am really looking forward to seeing the night sky.
Darwin's Game
What is it about: An unknowing Sudou Kaname is invited to try out a new mysterious mobile app game called Darwin's Game, but later realizes that he's in for more than he's bargained for when he finds out that there's no way to quit the game.
Genre: Action, Mystery, Shounen
Why I want to watch it: The manga has been on my 'to-read' list for a while now. Thus, I figure I can watch the anime and decide whether to read the manga or not. Although, I am pretty sure I will enjoy this anime, the premise and genre fall within the type of anime I typically enjoy.
Magia Record: Mahou Shoujo Madoka★Magica Gaiden
What is it about: In exchange for the fulfilment of a wish, Magical Girls keep fighting, unbeknownst to the rest of the world. But Iroha Tamaki can't seem to remember her wish. "When I became a Magical Girl, what did I wish for again?" There is a gaping hole in her life. Something important has been lost. But she continues to fight every day, without even knowing why… Then, a rumour begins to spread among Magical Girls. "Magical Girls can be saved if they go to Kamihama." Kamihama City, the city where Magical Girls and Uwasa are gathering. The story of Iroha Tamaki, in search of her lost wish, begins…
Genre: Drama, Magic, Psychological, Thriller
Why I want to watch it: I was torn between putting this in the second season category but decided to place it here because it has been so many years since the first and now this will be a new story with new characters. I am looking forward to this new take and relook at the Madoka★Magica world.
ID: INVADED
What is it about: Set in a virtual world, the visually stunning ID: INVADED follows Sakaido, a detective looking to solve the grisly murder of Kaeru, a young girl. But solving this case is unlike any other as the world begins to twist and turn around Sakaido, challenging what he thinks and believes.
Genre: Action, Drama, Mystery, Sci-Fi, Supernatural
Why I want to watch it: A detective styled show set in a virtual world sounded interesting and I was drawn in by their promise of being 'visually stunning'. I know it was for the game but that gave me high hopes for the anime on the whole. I am a sucker for 'pretty' anime.
Pet
What is it about: There are people who can get into people's mind and control their memories. This power is used to eradicate mysteries and cases or worse, to assassinate. The potential of the said power is strong enough that it is able to destroy people's mind, however, can backfire and eat up their own heart. To counter it, chains are used to lock and protect each other's weak and dangerous heart. From one's growing fear and disdain, they're consequently called as a "Pet."
Genre: Mystery, Psychological, Seinen, Supernatural
Why I want to watch it: It deals with peoples minds and hearts. Basically, the synopsis has left the impression on me that it will be an anime that will make me think. I am hoping that it will.
Majutsushi Orphen Hagure Tabi
What is it about: A sorcerer who was once the top student of the famous Tower of Fang, now spends his time chasing around his hopeless clients as a moneylender, at least until his client comes up with a plan to make money: marriage fraud. Unwillingly being dragged into the plan, Orphen encounters a monster who has long been his goal since the day he left the Tower of Fang. Between those who seek to kill the monster and Orphen, giving everything to protect the monster, his lousy but peaceful days end. Trying to turn back his sister, Azalie, back to her true form leads to many more mysteries and the key to the secret to the world.
Genre: Action, Adventure, Comedy, Demons, Fantasy, Magic
Why I want to watch it: I am really hoping for a fun, chilled and great collection of fights and more from this.
Itai no wa Iya nano de Bougyoryoku ni Kyokufuri Shitai to Omoimasu.
What is it about: Kaede Honjou is invited by her friend Risa Shiramine to play a virtual reality MMO game with her. While Kaede doesn't dislike games, what she really, truly dislikes is being in pain. She creates a character named Maple and decides to put all her points in VIT to minimize pain. As a result, she moves slowly, can't use magic, and even a rabbit can get the best of her. But as it turns out, she acquires a skill known as "Absolute Defense" as a result of her pumping points into VIT, as well as a "Counter Skill" that works against special moves. Now, with her ability to nullify all damage, she goes on adventures.
Genre: Action, Adventure, Comedy, Fantasy, Sci-Fi, Slice of Life
Why I want to watch it: Another game-based anime but I have added it to the list because I think it will make me laugh. I just hope it does not try too hard to be funny.
Plunderer
What is it about: It's the year 305 of the Alcian calendar, and the world is controlled by numbers. Every human born is branded with a "Count," which could mean anything from the number of kilometres walked to the number of people who have said your food is tasty. And if your Count drops to 0… you'll be sent into the Abyss! After Hina's mother's Count dropped to 0, her last request is for Hina to look for the Legendary Red Baron.
Genre: Action, Adventure, Comedy, Drama, Ecchi, Fantasy, Romance
Why I want to watch it: A counter that is not directly linked to one set thing for everyone sounds interesting and also brings the question, do people die before their counter reaches zero?
Somali to Mori no Kamisama
What is it about: The world is ruled by spirits, goblins and all manner of strange creatures. Human beings are persecuted, to the very point of extinction. One day, a golem and a lone human girl meet. This is a record of the pair; one a member of a ruined race, the other a watchman of the forest. It tells of their travels together, and of the bond between father and daughter.
Genre: Adventure, Fantasy, Slice of Life
Why I want to watch it: X
Kyokou Suiri
What is it about: The 17-year-old Kotoko has a unique situation. When she was a child, she was kidnapped by spirits called youkai, and returned missing one leg and one eye. Since then, she has been able to communicate with otherworldly forces, both benevolent and dangerous. Kotoko is alone in her power until she learns that the crush she's watched from afar, Kurou, has had his own encounter with youkai! As if being touched by the supernatural wasn't enough, Kurou's personal life is also in shambles. With their shared experiences and understanding, Kotoko and Kurou form a partnership to deal with mysteries, from ancient demons to the ghost of an idol. But for a girl who's used to dealing with spirits, winning love might prove to be the bigger challenge!
Genre: Comedy, Mystery, Romance, Shounen, Supernatural
Why I want to watch it: This simply sounds interesting. I also thought I should add a romance to the mix and the fact that I enjoy supernatural shows.
NEXT SEASONS
Since the below are continuations of anime, I do not really consider them to be 'new' anime per se and thus don't include them in on my season list but I still want to mention the sequels I am looking forward to and will be watching.
Re:Zero kara Hajimeru Isekai Seikatsu: Shin Henshuu-ban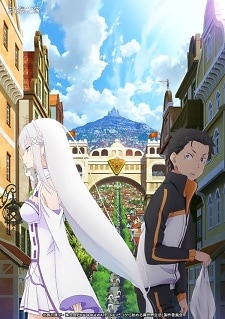 Haikyuu!!: To the Top
Isekai Quartet 2
What anime are you planning on watching this Winter? (^^,)
Not sure what is coming out this season? Click here